..::04_29_2017::..
Sanctum  – A Beltane Gathering (Asheville, NC)
Beltane is a time to celebrate the awakening of nature with the emergence of spring. We emb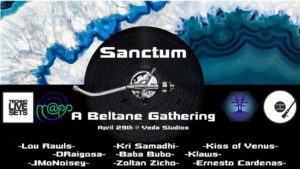 ody this natural shift in presence internally and collectively through dance, energetic movement, and vibrational therapy. While facilitating authentic human connection, it is a time to celebrate community, renewal, and self-transformation, held in a safe group, oriented environment.
Tickets are $20 at the door: All proceeds will be transparently distributed between technical, visual, and musical artists.
***Please arrive early! Capacity is limited. In order to secure your presence at this magical gathering, we highly encourage you to attend the opening yoga class.
Guidelines:
~This is a sock hop! Don't worry- there will be plenty of spaces to store your shoes
~Veda Studios has requested that we refrain from the use of illicit substances on the premises. This includes the parking lot and alcohol.
We appreciate your cooperation in maintaining the integrity and intention of this event.
_____________________________________________________________________________________________
..::06_02_2017::..
Welcome to Pangea 10 – A New Paradise (Ferguson, NC)
Pangea Productions and Pure Perception Records would like to invite you to join us dee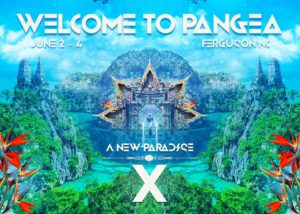 p in the Appalachian Mountains for our very special 10th anniversary.
As with every year, the music has been carefully selected to include a full range of sounds including Psy-Trance, Techno, Progressive, House, Downtempo, DnB, and Ambient. Combined with a unique visual experience and a breathtaking natural setting, we will create a New World of Depth, Color, and Imagination – A New Paradise.
We invite you to join us in this celebration of Life, Nature, the Cosmos, and our 10th Anniversary!
For tickets and info:
Website
Facebook
_____________________________________________________________________________________________