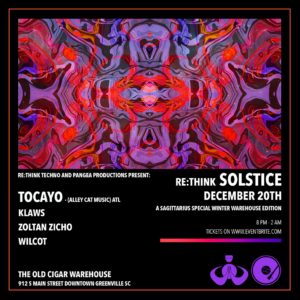 Join us for a special Re:Think Techno & Pangea Productions edition to end the year in style! Deep vibes in a beautiful 135+years old warehouse downtown Greenville SC.
This is a Special Holiday edition & end of the year event.
Full Info:
https://www.facebook.com/events/1310459815813739/
RSVP only.
Tickets available online or at the Door.
18+ to dance.
8PM – 2AM.
After-hours downtown to be announced at the show…Going until 6am+
Tickets:
https://www.eventbrite.com/e/rethink-solstice-a-saggitarius-winter-warehouse-special-edition-tickets-82533370533